It's shocking news, but a gang of Bandits is spreading terror on rivers, lakes and impounds across the United States. The grim reality is that untold numbers of crappie have been slaughtered with the help from this feared gang of diving crankbaits. Shockingly there seems to be no end in sight when it comes to controlling this deadly trend.
Seriously though, when a gang of Bandit crankbaits passes by a crappie, it likely looks more like a traveling buffet than a gang of ruthless killers. Tournament and just regular crappie anglers have discovered the effectiveness of long-line trolling multiple rods with Bandits tied on, but there's more to it than simply throwing out your lines and seeing the sights
Kent Driscoll and John Harrison are two experts when it comes to long lining for crappie. Both have years of experience on the water pulling crankbaits, and Harrison guides non-stop on renowned big crappie reservoir Grenada Lake. They also successfully compete together as a team in crappie fishing tournaments.
A number of factors influence Driscoll and Harrison when it comes to long lining. It begins with water clarity.
"You must have water that is clear enough that a crappie can see the bait," Driscoll said. "We want water clarity to where you can see at least 20 inches down."
The team starts off with 6 to 8 rods depending on regulations for that body of water. They rig the same series baits in different color patterns to each rod
"As the day goes, we will narrow the colors down to just what the crappie are biting that day. Typically, if it's a bright day, bright lures like pink or chartreuse work best. If it's a dark day, darker lures like black or brown seem to perform better," said Harrison.
Driscoll added that one hint you can get from the crappie that strike the bait is how far it is down the fish's mouth. If the fish is hooked deeply, you know you've got the right color. If it's barely hooked or hooked on the outside of the mouth, a slight adjustment is in order.
While most anglers use the bait just as it is out of the package, Driscoll and Harrison often replace the front treble with a red one, and often add some glitter fingernail polish for extra sparkle.
When long lining, Driscoll and Harrison use Bandit Crankbaits attached to the line via a high quality ball bearing swivel.
"Bandit Crankbaits have a compact shad profile that's perfect for attracting crappie, and they run true right out of the package. Over the years of long lining, we know that the 100 Series runs 3- to 7-feet deep, 200 Series runs 7- to 12-feet deep and the 300 Series runs 9- to 17-feet deep, depending on how much line we have out and the line test," said Driscoll.
If you want the bait to run deeper than listed on the package, let out more line and let it run farther back from the boat. On the line test issue, the larger the line, the shallower it will run. Lighter line lets the bait run deeper.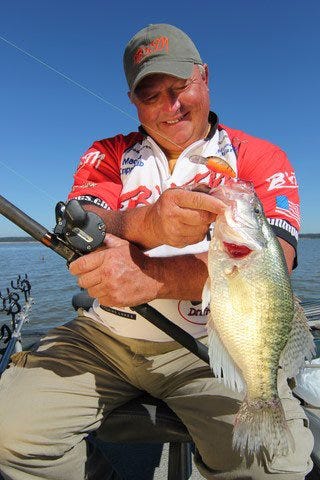 "Bandit Crankbaits have all the crappie patterns that catch fish down here," Harrison said. "There's no need to get them customed painted."
Pulling crankbaits is most effective in summer and fall. In the summer, it's also more comfortable than sitting in one place in the sun.
"The hotter it is the better," Driscoll said. "Usually that's in June and July when the thermocline sets up with water temperatures around 85 on Southern reservoirs. In the fall there is also a period when long lining crankbaits is productive."
During the summer Driscoll and Harrison target the lower 1/3 of the reservoir, focusing on big flats in 20- to 28-feet of water. They avoid standing timber and aquatic vegetation whenever possible, instead focusing on areas near the river channel or on a prominent breakline.
"We'll start the day using 100 Series or 200 Series Bandit Crankbaits, and then switch to the 300 Series as the sun gets up," said Harrison.
In the fall, Driscoll and Harrison target shallow flats about halfway back in creek channels.
"The crappie are just following migration routes towards the back of creek channels or coves," said Driscoll.
Almost nothing is too shallow during this season as they have caught them in water as shallow as 5 feet, but normally target depths of 12 to 25 feet.
As for lure colors, in the fall it depends on water clarity. The pair look to shad patterns if the water is clear. If it's murky they first reach for darker patterns like black bubblegum and plum point.
Having fished together so long, these two anglers have developed a set way of putting the rods out and which rods are best for long lining. They begin with two 16-foot rods on the outside rod holders, two 12-foot rods in the middle and two 8-foot rods in the center.
"The number of rods we use depends on fishing regulations, but we'll put out eight rods if it's legal," said Driscoll.
To cover a wide area and multiple levels in the water column, Driscoll and Harrison space the Bandit Crankbaits out at different distances from the boat.
"The 16-foot rods will have 160 feet out from the reel to the crankbait, 12-foot rods will have 140 feet of line out from the reel to the crankbait, and the 8-foot rods will have 120 feet of line out from the reel to the crankbait," said Harrison.
To keep crappie from throwing the hook, Driscoll and Harrison use B'n'M' Poles Pro Staff Trolling Rods. These rods have plenty of backbone and are stiffer, but have a fast tip. The tip will flex, but keep tension on the crankbait and crappie so they don't get loose.
When a crappie gets hooked the two anglers work as a team to keep from getting a huge mess.
"We like to reel the crappie down the open lane. Actually, we'll reel so fast it skis the crappie across the surface. It's important not to let it get a big mouthful of water," said Harrison.
All of the trolling rods will have a line counter reel lined up with 12-lb high-vis green fishing line. The line counter lets them know where the bite came and allows them to duplicate where to set it.
Pulling crankbaits seems to appeal to the biggest crappie in a school – a key to the team's success – and even though they have a system that lets them fish multiple rods in a systematic approach, anyone with a boat can enjoy similar success. Just get out and give it a shot before it gets too cold!